14.09.2020
The integration of the AUM Complex with methanol production is completed at "Metafrax"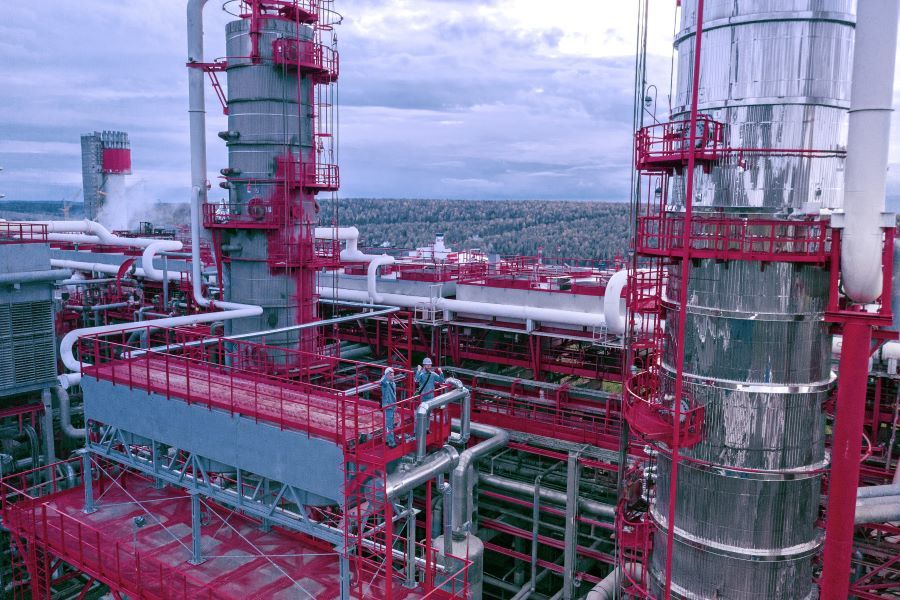 Repairs were carried out at the methanol production facility at the "Metafrax Chemicals" enterprise by order of General Director, Vladimir Daut. In addition to maintenance of the unit, technical expertise and diagnostics, integration with the Ammonia-Urea-Melamine (AUM) complex, which is currently under construction, has been completed.
- An important stage of the entire work complex was the performance of tie-in to the main gas duct, which will allow gas to be supplied to the AUM Complex, - stated Alexander Vdovin, Technical Director of PJSC "Metafrax".
In addition, the waste heat boiler of the reforming furnace no. 2 was repaired and the rubber lining of the sixth block (demineralized water) filter was replaced.
- At the third block, we have upgraded the oil system of the blower fan as well as carried out integrated survey of the boiler, which has been operating since 1984, - explained Alexander Vdovin.
At the first block (rectification), the piping of heat exchanger–reboiler was performed on the main rectification column with the installation of stainless steel pipelines. On the eighth block (compression), the shut-off valves were replaced. Equipment expertise was organized at the methanol unit: pipelines, steam ducts, a battery of tanks - pressure vessels/devices were checked. Routine activities were performed per punch lists that were made during the operation of the equipment. More than 500 people took part in those activities. The partial oxidation unit for natural gas was repaired.
- Major repairs and equipment upgrades are carried out annually at the methanol unit. For example, in 2019, we replaced the reformer pipes at furnace no. 2, and this year we are replacing the ID fan at furnace no. 1, - specified Alexander Vdovin.
The capacity of the unit will remain the same: 3,4 thousand tons of rectified methanol per day. But as a result of the major repairs, the efficiency of product fabrication will significantly increase due to the redistribution of syngas production: both furnaces will operate in a partial load mode, and the РОХ unit will be more loaded. Redistribution of the raw material flow will increase the efficiency of its consumption and increase the service life of the reformer pipes of both reforming furnaces.
The reliability of the production power supply was also improved during the repair activities. The design element base of the 10 kV panel protection diagram was been completely replaced from the outdated analog version to the digital one. Work continues on relay protection at 0.4 kV switchboards with the replacement of the outdated base with a modern one.