13.02.2021
The WorldSkills UCTC competence center hosted regional competitions for the first time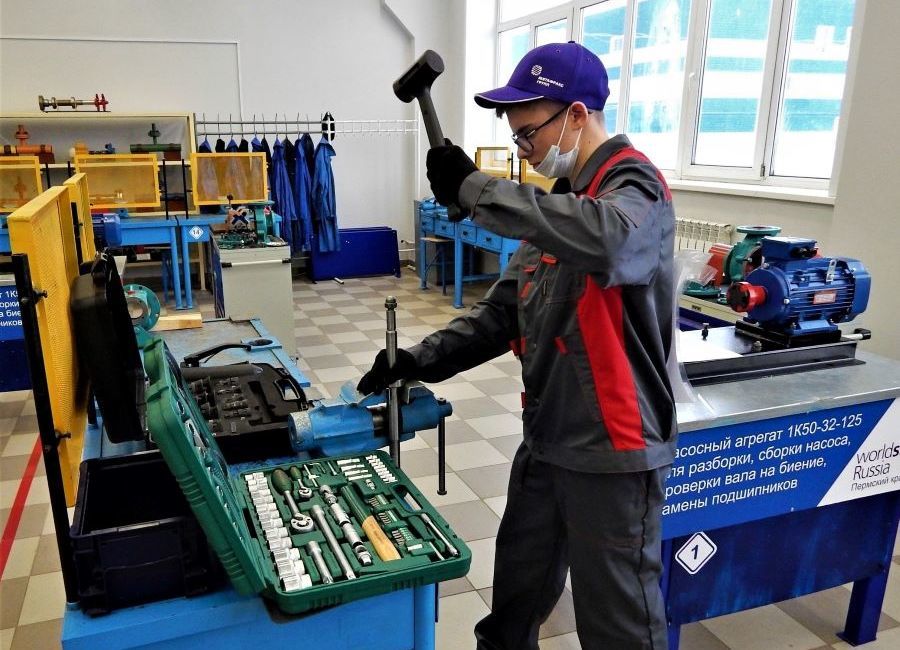 The VII regional championship "Young Professionals" (WorldSkills Russia) took place in Perm region. Students and teachers of Ural chemical-technological college (UCTC, Gubakha) successfully performed in 4 competencies.
This was the first time the national professional competition in the competence "Repair of Chemical Production Technological Equipment" was held and its regional part was organized on the basis of UCTC.
- All 5 competitors are students of our college. Last autumn a specialized center of WorldSkills competences was opened on the basis of our college. With the support of regional Ministry of Education and Science and our social partner Metafrax company, we repaired the room and equipped working places with new training equipment, said director of UCTC Alexey Nazarov.
According to results of the competition, leaders of this competence became Nikita Belozerov, third-year student of the group "Installation and operation of equipment" (1st place), fourth-year students Nikita Kukshinov (2nd place) and Aleksandr Gryaznykh (3d place).
Rashid Shakirov, Deputy General Director on personnel and social issues of PJSC Metafrax handed over awards to the winners.
Students of UCTC Robert Gilfanov and Dmitriy Tyutikov competed in Berezniki in the competence "Industrial mechanics and installation". As a result of persistent struggle Robert Gilfanov took the third place.
Two prizes were brought from Solikamsk by UCTC students and their teacher, tutor and expert Elena Semenova, working at Metafrax. Alexander Varlamov, the third year student of the specialization "Chemical technology of organic substances" became the winner in the competence "Operator of chemical technologies". His groupmate Evgeniy Snigirev took the third place.
Veronika Eliseeva, student of UCTC, was not among the first three winners in the competition on "Laboratory chemical analysis" competence that took place in Perm, but she won a championship medal for her professional skills and the college teacher Lyudmila Parshakova took the third place in "Skills of the wise" nomination.
_________
UCTC - is a basic educational institution for Metafrax, its graduates work practically in all structural subdivisions of the company. Metafrax, government of Perm region and the administration of Gubakha urban district are seriously investing in the development of the college. A multifunctional center of applied qualifications in the field of chemical technologies is created, a specialized center of competence "Repair of technological equipment for chemical production" is established, a project is implemented together with the Perm National Research Polytechnic University (PNRPU), under which scientists from the university teach at UCTC, a new stadium is built, and the college museum is renewed.