05.09.2022
Did their best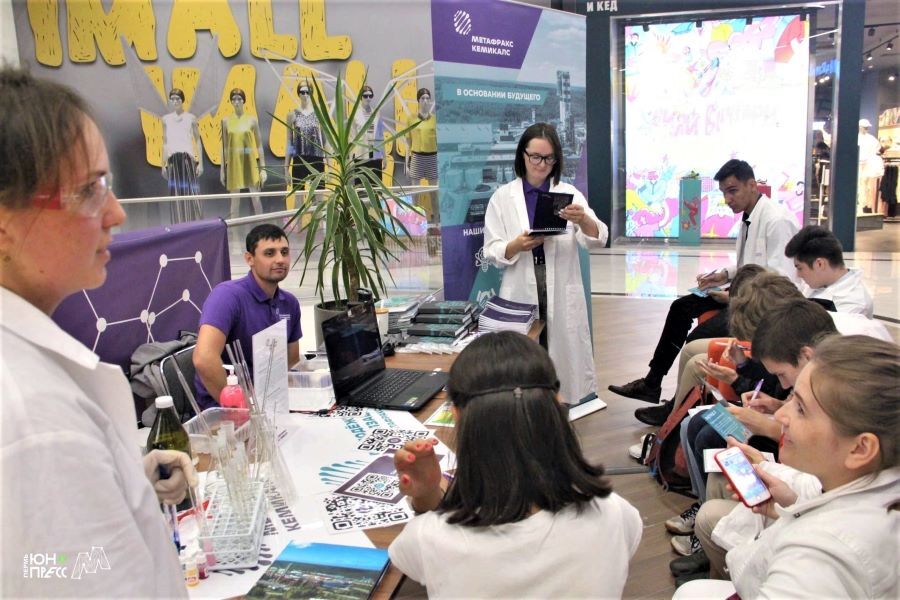 Metafrax youth organization deservedly represented the company on the forum "Perm period".
The autumn session of the youth forum took place on September 3d at the Esplanade iMALL Center in Perm. The forum brought together about 2 thousand participants aged 14 to 35. An educational program of about 50 events was prepared for them.
The program of the forum was divided into three blocks: "Resources inside yourself" - platforms aimed at boosting soft skills; "Habitat" - sessions where participants immersed themselves in the future and learned new things about urbanism, social design and game design; "Economic independence" - sessions for entrepreneurs or people who want to promote themselves and their brands.
PJSC Metafrax Chemicals was represented at the event by the company's youth organization. Alexander Pirogov, a design engineer, Kristina Pirogova, a vocational guidance specialist, and Natalia Polovinchenko, a design engineer, led the work at the company's stand. Kristina gave a quiz about chemistry, and Natalia showed entertaining experiments. The guests of the company's stand took countless pictures and left under great impression.
Kristina Azanova, a specialist of the corporate communications department, conducted quick interviews for the forum participants and invited young professionals and students to work for the company. Some of them were thinking about moving to Gubakha after graduation.
Kristina Pirogova, chairman of youth organization, shared her impressions of the forum:
"We participated in the "Perm Period" forum for the second time. This time we clearly set ourselves the goal that we also want to present our company and organize a platform for young people. Now we can proudly say that we did our best: nobody else had such a queue as we did. Seven hours of telling about our enterprise, a cool quiz and spectacular experiments were not in vain. I think, soon we will grow to the level of the forum in Gubakha".