31.03.2020
Russian companies of Metafrax Group switched to the "day-off" operation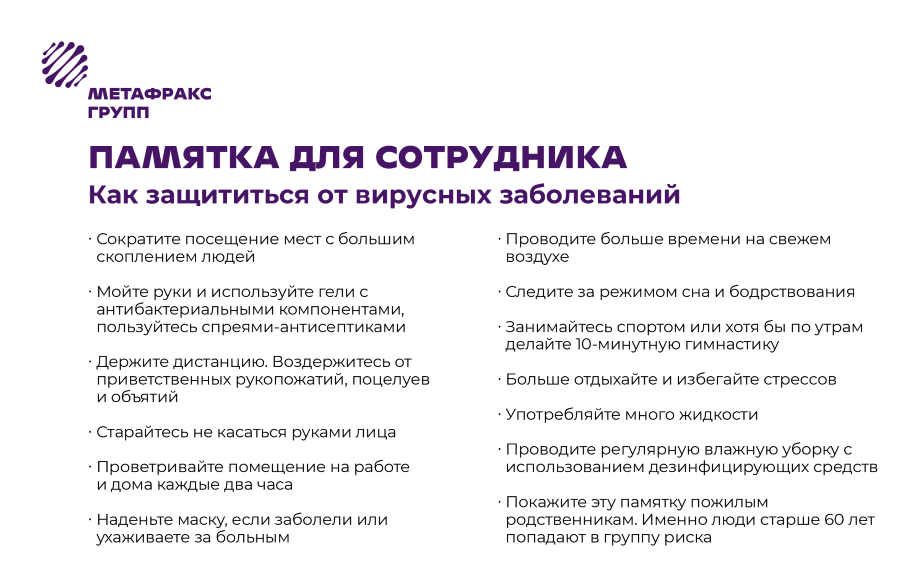 Starting from 30 March till 3 April the non-working days are declared in order to ensure the sanitary and epidemiological well being of the Russian people. The relevant Decree was enacted by the country president Vladimir Putin. Metafrax Group management shares the concerns of the authorities due to the coronavirus outbreak in the world. Health, safety and well being of the personnel, their families and all the citizens are our unconditional priorities.
In the companies of the group the regulatory acts are endorsed governing their operation in this period. As per these documents, from 30 March till 3 April the days off are provided maintaining the personnel salaries. The work is ongoing only for the specialists, for which by the employment contract the shift work is foreseen due to the necessity to ensure the technological process continuity and support operability of the production. Part of the managers and specialists are switched to the remote work. The emergency centers are created to prevent the spread of the coronavirus infection.
On the production facilities the preventive proactive actions were taken. The abroad business trips were cancelled, the personnel trips within Russia were limited. The meetings are held as the videoconferences. In all the companies of the group it was forbidden to be present at the work place for the specialists with external symptoms of ARVI. On the check-points of the companies there is a temperature check for all the visitors using the thermographic cameras.
"The government decision is aimed to decrease the quantity of the contacts for each of us between each other. We urge during these days-off to be as much as possible isolated from the environment. By keeping yourself healthy you protect your family, maintain the integrity of your department and operability of the company", highlighted the board chairman of PJSC Metafrax Armen Garslyan.
Please be reminded about the proactive actions for the virus diseases, and follow strictly the recommendations!