28.05.2020
A reference section for the "Labor productivity improvement and employment support" national project was created at "Metafrax"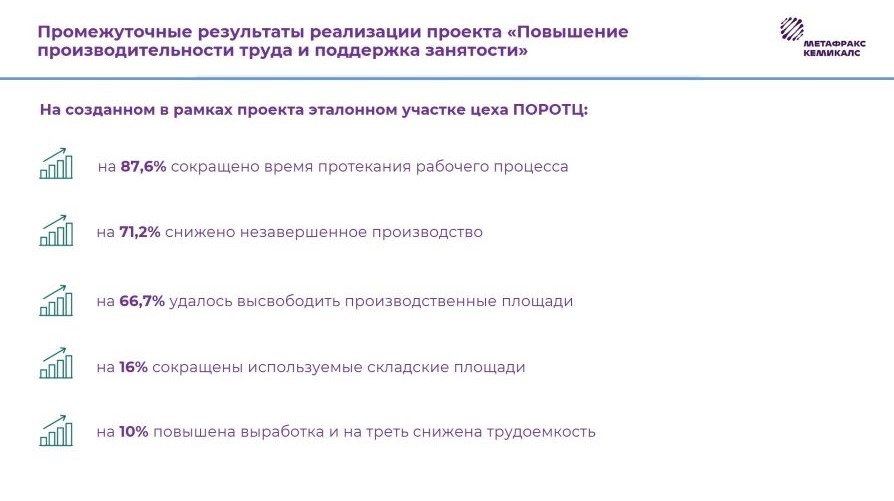 The results of the first stage of the project implementation for labor productivity improvement were summed up at "Metafrax Chemicals" company. This work resulted in the creation of a reference section for the repair of valves at the department of equipment maintenance and repair in process workshops (Repair Workshop).
75 employees of the company have been trained in the Federal center of competence in the field of labor productivity. Three employees were trained and certified at this center. They have trained more than 100 employees of Repair Workshop in lean manufacturing programs. The company has started further replication of the gained experience in all branches of the Repair Workshop.
- For our company, the participation in the project is a unique opportunity to gain practical experience. We plan to replicate it in all workshops of the company. We are learning the skillful production decisions, analysis of losses and flow formation, optimum interaction and use of the lean production tools, - said the Elena Vetluzhskih, the Project Manager and the Deputy General Director for finances and economy of "Metafrax" PJSC.
The company's specialists are working on the project implementation in close cooperation with an expert from the Federal center of competence in the field of labor productivity and specialists from the Ministry of industry, entrepreneurship and trade of the Perm region.
- The implementation of this project will ensure stable operation of production, taking into account the placement in operation for new capacities, including the "Ammonia-urea-melamine" complex. As a result, even with an increase in the number of divisions served and preservation of the regular number of repair service employees, the department will be able to fulfill its tasks, – said Elena Degtyareva, Deputy Minister of industry, entrepreneurship and trade of the Perm region.
The priority Federal program "Labor productivity and employment support", which received the status of a national project in 2018, has been implemented in the Perm region since 2017. Participation in the project provides businesses with serious support measures. This not only refers to creation and development of lean production, but also to digitalization and automation of labor. Moreover, grants are provided for the training of specialists and creation of competence centres. About 80 enterprises of the region participate in the national project. "Metafrax" entered the project in September of 2019 and became the first company in the Kama region to start working on improving the efficiency of repair services.