14.05.2020
Construction specialists of Metafrax celebrate Victory day with another success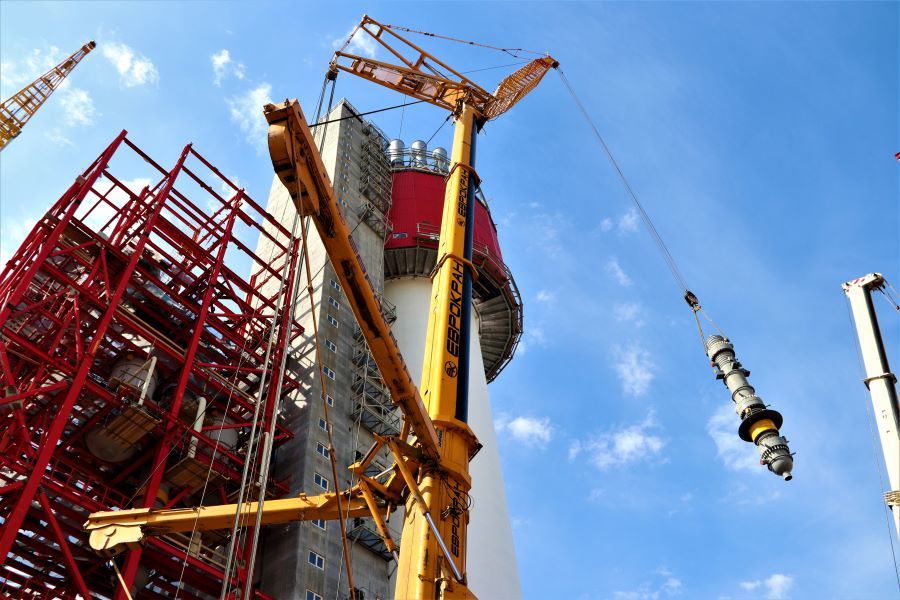 On May 9th and 10th, the last heavy–weight units were installed at the urea plant - two 30-ton vacuum separators and a 37-ton scrubber.
At the construction site of the Ammonia-Urea-Melamine (AUM) complex in Gubakha, work is carried out in a continuous mode. By the decision of the Ministry of construction of the Perm region, the AUM complex construction is included in the permitted list of objects, on which works should not cease. Here, "Metafrax Group" is implementing one of the largest investment projects in the Perm region. As a result of a new production facility launch at the group's parent company, "Metafrax chemicals", more than 400 new qualified job positions will be created.
On May 9th-10th, three heavy-weight process units were installed at the construction site of the future production facility. The work was performed by high–altitude installers of the Sredneuralsky installation department of "UEM" using a 500-ton Liebherr crane. The length of its extended arm for lifting multi-ton process devices to a 60 meter height was 85 meters.
The progress of work was personally supervised by the project manager for the construction of the AUM complex, General Director of PJSC Metafrax Vladimir Daut. On Victory Day, May 9th, installers erected a 30-ton vacuum separator № 2. The work was carried out under difficult weather conditions – in Gubakha, the air temperature on this day was a record for May 9th – +31 degrees. The next day, on May 10th, the vacuum separator № 1 was lifted to the elevation of 49.8 meters along with the 37-ton scrubber.