16.06.2020
Victor Suruda: ""Uralenergostroy"'s participation in the AUM complex construction is a significant event in the company's history"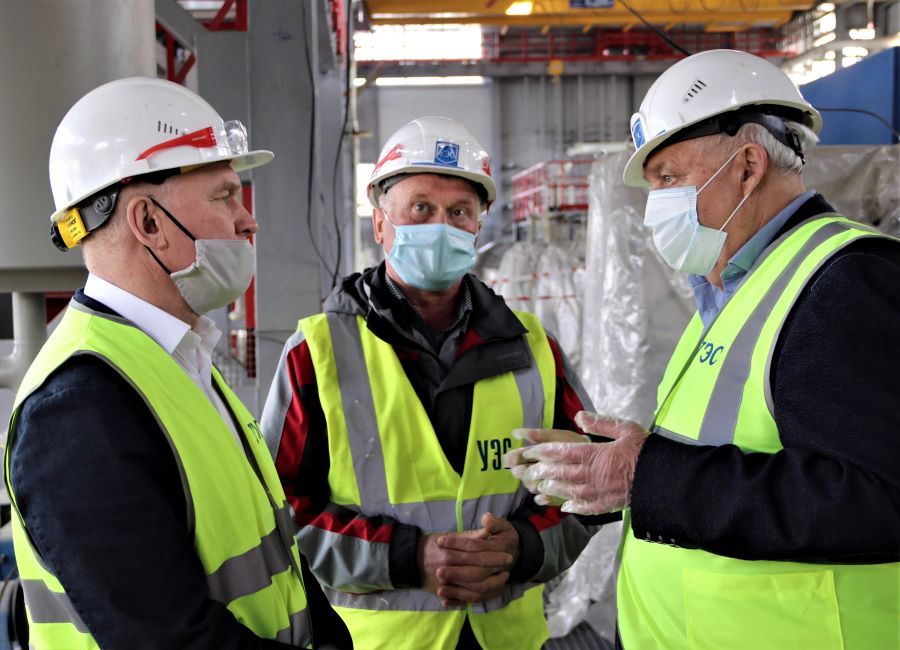 Viktor Suruda, General Director of «Uralenergostroy» MC, visited the construction site of the Ammonia-Urea-Melamine (AUM) complex of «Metafrax Chemicals» company in Gubakha.
"Uralenergostroy" ("UES") is the general contractor for the construction of the ISBL area facilities (production facilities) of the AUM complex. During the trip, the head of the management company monitored the progress of construction and installation works at the site and discussed the completion dates for the construction of facilities. The head was accompanied by his deputy, Sergey Lozhkin, the Director of the Perm branch of the company as well as by Vladimir Pavlov, the project manager. Viktor Borisovich inspected the auxiliary boiler room, ammonia compression and synthesis areas, units for CO2 recovery from flue gases as well as urea and melamine units.
Following the visit, the General Director of "UES" stressed that the work experience gained in Gubakha while implementing a unique project will strengthen the professional qualities of the staff, will contribute to the development of the potential and the growth of the authority of "Uralenergostroy".
- The participation of our company as a general contractor of such a large-scale project is a significant event in its eighty-two-year history. Trusting partnership relations with the customer – "Metafrax" PJSC - will have a positive impact on the reputation of "UES" and will be the key to fruitful cooperation. And if "Metafrax" invites our company to participate in its new projects again, we will gladly accept the offer and guarantee the quality of work", - stated Viktor Suruda.
"Uralenergostroy" Management Company is one of the largest suppliers of construction and installation services for industrial complexes and generation facilities on the Russian market. The number of thermal power plants, GRES and nuclear power plants constructed by "UES" employees is approaching 40 facilities. Viktor Suruda, the Honoured Builder of Russia, was born in Sverdlovsk in 1942. From 1965 to 1988, he worked as a foreman, master, Deputy Manager of the "Uralenergostroy" trust and then became its manager. He has been a General Director of "UES" company since 2004.