03.09.2021
An exhibition dedicated to the 105th anniversary of the enterprise has opened in the "Karbolit" JSC business center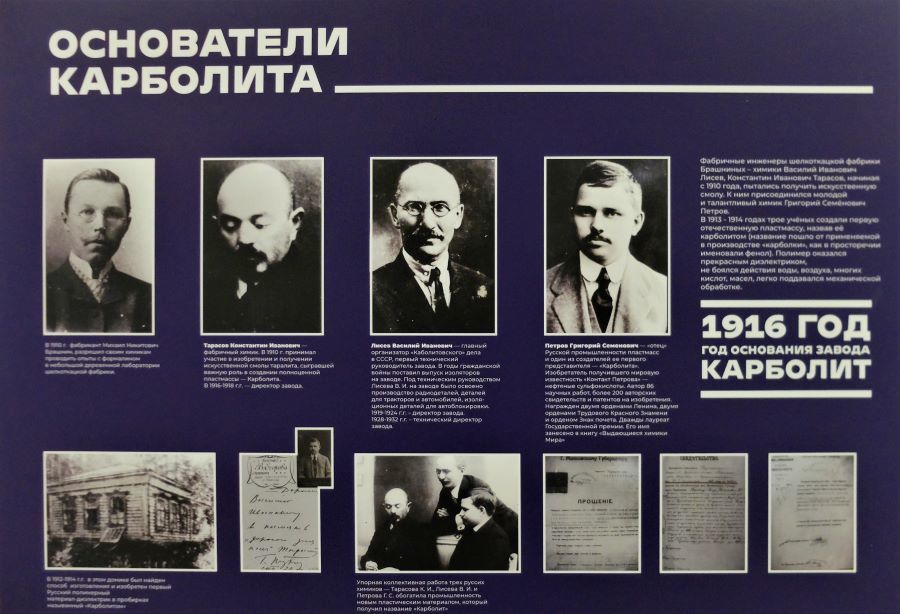 The exhibition contains dozens of photos and documents. Visitors of the exhibition will learn how the abandoned factory workshop of Dubrovka became the first production site of domestic plastic in Russia in 1914-1916. A dedicated space is given to the creators of carbolite – scientists and engineers Grigory Petrov, Vasily Lisev and Konstantin Tarasov.
The exhibition materials tell about the development of the enterprise in the post-revolutionary period, the participation of the plant in the GOELRO state electrification plan, the large-scale growth of production during the industrialization period, the feat of the Karbolite workers during the Great Patriotic War and the formation of the company as the flagship of the domestic chemical industry in the post-war period.
Separate stands are dedicated to the first employees of "Karbolit", among whom, for example, was the famous religious philosopher and scientist Pavel Florensky and the chief designer of the plant Alexander Kudakov. The daily life of the company's staff is shown at the stands about the development of the social and cultural area as well as sports achievements.
The exhibition is organized by "Karbolit" JSC together with the Orekhovo-Zuyevo City Museum of Local History. According to the director of the museum, Anna Lukina, it is impossible to imagine the pages of the history of Orekhovo-Zuyevo without the activities of such an enterprise as "Karbolit".
- The history of enterprises should not be forgotten, it should be spoken about. Therefore, I am very glad to have a fruitful cooperation with the company's management and a new, informative exhibition, which we managed to create together. The "Karbolit" plant is the flagship of the production of domestic plastics. The discovery and development of new technological processes, the over-fulfillment of the plan, the production of such necessary products for a young country – the plant was famous for this and many other things. The plant's employees have always taken an active part in city events. During the war, they provided invaluable assistance to the hospitals deployed in the city. And this is taking into account the performance of an enhanced shift at the enterprise. I am sincerely glad that the history of the plant has not been forgotten and the exhibition is a proof of this, - said Anna Lukina.
- We are very grateful to the Orekhovo-Zuyevo City Museum for its help in organization of the exhibition. The staff of our company is proud of its century-old history and powerful labor traditions of "Karbolit". We hope for further successful cooperation and the continuation of joint fruitful work with the city museum, - notes Maxim Batuev, General Director of "Karbolit" JSC.