06.03.2023
High growth potential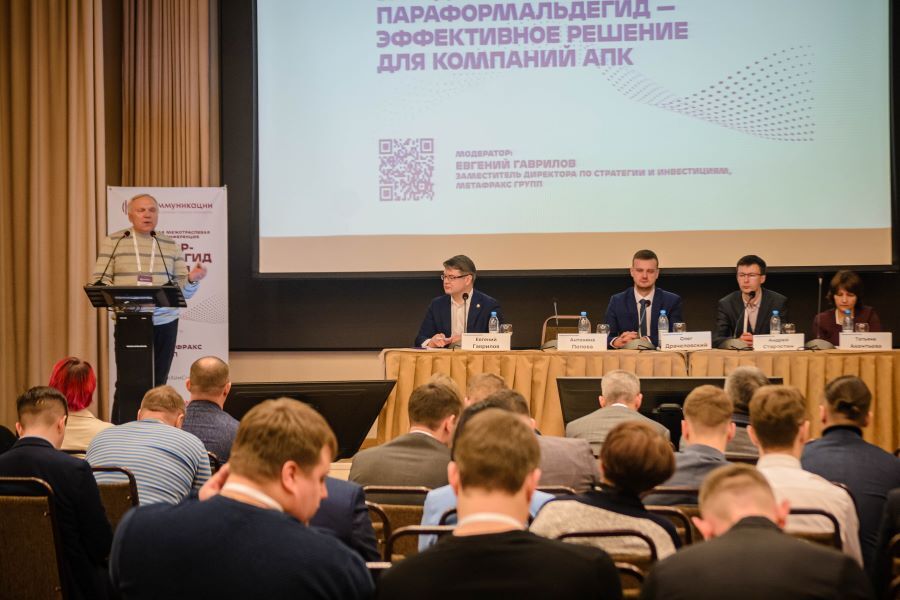 The participants of the All-Russian conference discussed the prospects of using paraformaldehyde in the agricultural industry.
As part of the cross-industry practical conference, which took place in Perm on March 1st, a separate meeting was dedicated to the use of paraformaldehyde in agriculture.
The relevance of the stated topic was confirmed by Pavel Noskov, the Minister of the agro-industrial complex of the Perm region.
- The support measures that we provide are aimed at efficiency and achieving results. It is very important for me that those developments, those tools, which can improve the efficiency of operation of our enterprises, are widely distributed and put into practice, - Pavel Noskov noted.
During the discussion, representatives of the authorities and Rosselkhoznadzor, traders and consumers of paraformaldehyde (paraform), Russian and Belarusian chemists and veterinarians spoke about the practices and prospects of using paraform for the manufacture of disinfectants, compound feed for livestock, in veterinary medicine, for the creation of slow-release fertilizers, herbicides-glyphosates and other products for the agro-industrial complex (AIC).
The speakers drew attention to the high potential of the product for domestic agriculture. In particular, Mikhail Kuchinsky, a Professor and Doctor of Veterinary Sciences, spoke about promising Belarusian developments in this area. He informed that the Institute of Experimental Veterinary Medicine has conducted tests for a disinfectant, the main component of which is paraformaldehyde.
- After the registration tests are completed, this product can be used in the agro-industrial complex and a serious effect can be achieved in the prevention and elimination of animal diseases. At the same time, registration in the Republic of Belarus will allow the preparation to be used in Russia as well, - Mikhail Kuchinsky said.
Armen Garslyan, the Chairman of the Board of Directors of "Metafrax Group", spoke about manufacturer's strategy to promote paraformaldehyde in the agro-industrial complex.
- Agriculture is a huge niche for the use of paraformaldehyde, and we must use this potential. We plan that there will be a dealer in each federal district of the country who will be engaged in the implementation. We will also involve farms where we will work on the practice of application. I think that in this case Perm region should become a pioneer. We are ready to accompany several agricultural enterprises, where we will clearly and competently show what kind of product it is, why and how its use is beneficial, - Armen Garslyan highlighted.
As a result of discussion, Pavel Noskov, the Minister of agro-industrial complex of the Kama region, expressed readiness to assist in promotion of products, which use paraform, and offered "Metafrax Group" to take an active part in industry events, conferences and forums of agricultural workers, which are dedicated to the introduction of advanced technologies in agriculture.