24.12.2021
A detective comic book and an engraver's workplace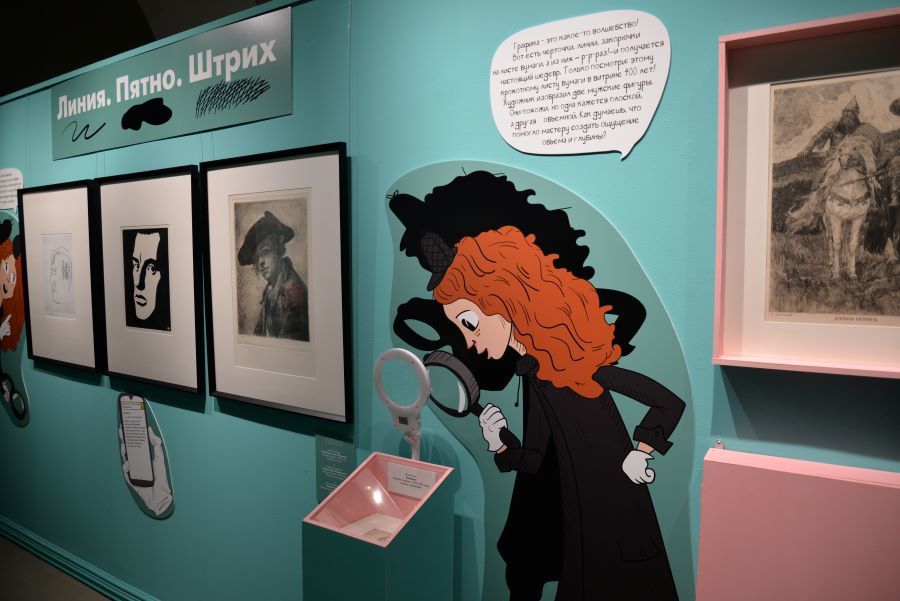 Metafrax Group and the Perm State Art Gallery present "Black and White Investigation", the fourth exhibition for children within the joint educational project "Chemistry of Art".
The interactive comic book exhibition, whose subject is drawn directly onto the walls of the hall, is addressed to the youngest audience: through a story about the technology of creating works of art, it teaches them to understand those works.
The exposition is devoted to printed graphics. At the exhibition, the viewers will see authentic works of printed graphics of the 16th-20th centuries from the funds of the Perm Gallery. Among them are the works of European and Russian artists Jacques Callot, Giovanni Battista Piranesi, Ivan Shishkin, Valentin Serov, Vasily Mate as well as the works of the recognized masters of the Soviet period: Vladimir Favorsky, Arkady Kolchanov, Alexei Kravchenko, Evgeny Charushin, Yury Vasnetsov and Alexander Zyryanov.
The exhibition is organized with the support of Seifeddin Rustamov, the beneficial owner of PJSC Metafrax Chemicals.
"The ideology of the project matches with the philosophy of Metafrax Group brand: foundation of tomorrow. Of course, the future is children. How our society will develop depends on their mental and cultural development", says Maria Konovalova, adviser to the Chairman of the Board of Directors of Metafrax Chemicals, "together with our partners in the fourth part of the project we will continue to immerse children in the world behind the looking-glass of the creative process, helping them make art their interlocutor. Now with our colleagues we are considering projects for the next anniversary year for the gallery."
"Black and White Investigation" is available to viewers at the Perm Gallery through April 3, 2022. In spring-summer 2022 the exhibition will be shown in the Gubakha History Museum.
Read more in the Novy Kompanion article:link