02.09.2022
Message for future colleagues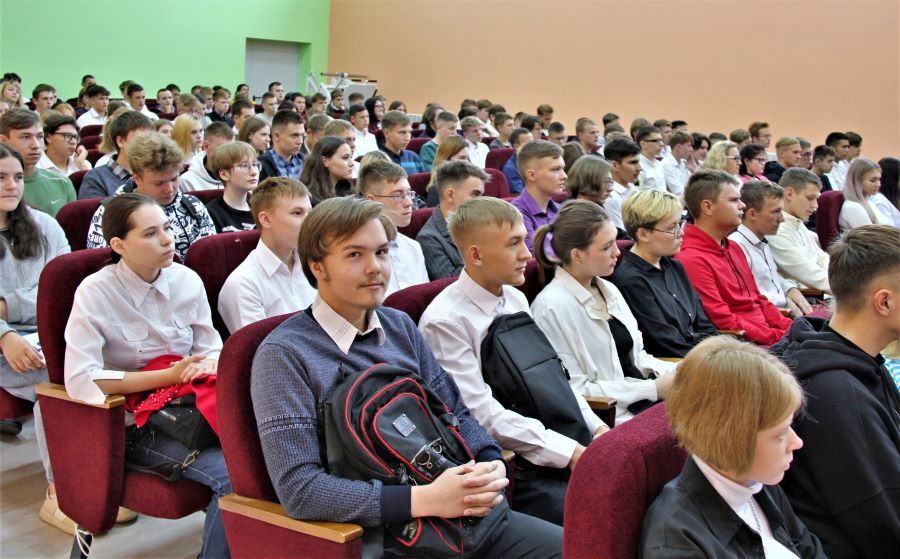 More than 180 students have enrolled in Gubakha Chemical Technology College this year. The selection to the educational institution, of which "Metafrax Group" is a long-term partner, is carried out on a competitive basis.
On the Knowledge Day, September 1st, the first academic bell rang for the first-year students of the Ural Chemical Technology College (UCTC, Gubakha, Perm region). Future chemists, fitters, welders, instrumentation specialists and cooks gathered for the celebratory assembly in the event hall of the college.
Rashid Shakirov, the Deputy General Director for personnel and social affairs of "Metafrax Chemicals" PJSC, congratulated students and teachers on the start of the new academic year.
- I want to thank you for choosing UCTC. "Metafrax" has been cooperating with the college for many years, this is a strong and fruitful friendship. More than half of our employees gained professional knowledge within these walls in their day. I am sure that from the first days in college you will be surrounded by the care and attention of your teachers, curators and senior students. Four years will pass quickly, and I hope that many of you will come to our company and become a part of our big team, - noted Rashid Shakirov.
This year, 181 first–year students have enrolled in UCTC, 76 of them are chemists. For several years, the number of applicants wishing to study at this college exceeds the admission control figures, and the selection is conducted on a competitive basis.
---
In 2022, "Metafrax Chemicals" acted as a partner of UCTC as part of the federal project titled "Professionalitet". In 2023, the college will become the basic institution of the educational network – a cluster of the chemical industry. Students will be trained in three majors: "Chemical technology of organic substances", "Technology of analytical control of chemical compounds" and "Installation, maintenance and repair of industrial equipment". At the expense of the federal grant, the funds of "Metafrax Chemicals" PJSC and the regional budget, the laboratories and workshops of UCTC will be provided with the latest educational, measuring and production equipment. Repairs of the facade and premises of the educational and production workshops will be carried out, new intensive educational programs will be developed and implemented.