28.12.2021
"Metafrax Group" was awarded for the high level of solution of corporate tasks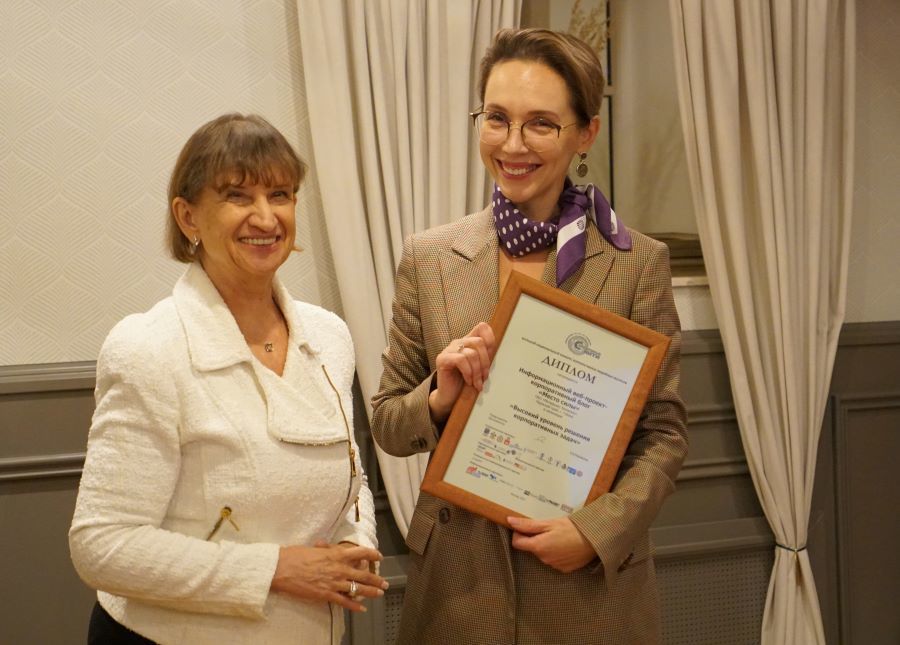 The winners of the Big National Corporate Media Contest "Silver threads-2021" have been announced.
The "Metafrax Chemicals" Company won this contest in the category of "High Level in Solving of Corporate Tasks". The experts recognized as the best the special information project of the enterprise - the corporate blog "Place of Power". Mrs. Maria Konovalova, Advisor to the Chairman of the Board of Directors of PJSC "Metafrax Chemicals", received the award at the awards ceremony, which took place on December 18 in Moscow as part of the XVI National Conference of Corporate Media "Silver threads 2021".
- The idea of the «Place of Power» project is to tell, how the "Metafrax Chemicals" Company implements one of the biggest invest projects in the Perm Region - construction of the "Ammonia-Urea-Melamine" Complex. Actually it is the new "factory within the enterprise» – the driver of development not only for the Company, but for the whole territory of the Kizel coal-basin for the decades to come, - told Mrs. Maria Konovalova, - We set ourselves the task of conveying in an accessible form to a wide audience information on the investment project, its significance for the Company and for the Region, the environmental friendliness of this unique complex. I thank my colleagues and partners for the successful implementation of our idea.
The project was developed by the communications department of "Metafrax Group" together with the "Kommersant-Prikamye" periodical in the form of a landing page with an individual layout and presented on the website of this media outlet. This website combines texts, photos and video content, animation. It is designed in accordance with the general concept of the united brand of "Metafrax Group". It is used on all media platforms of the 'Metafrax Chemicals" Company as presentation material. For nine months from the publication date of the project, more than 8 thousand views of the landing page were recorded on the periodical's website.
The main goals of the "Silver threads" contest are to increase the importance of corporate resources in the Russian information field, to create a professional space in which all participants in mass and business communications interact. This year, about 70 projects were submitted to the "Silver threads" contest. The experts of the contests were the heads of the largest regional enterprises and organizations, representatives of the media, authoritative specialists in the field of communication and information processes.
The winners were determined by the decision of the Expert Council, which includes representatives of state authorities, scientists from the country's leading universities, heads of publishing centers and communications directors of the largest Russian companies.
The project «Place of power»: link