29.04.2022
Mr. Armen Garslyan: "I wish you not to stop, develop, learn"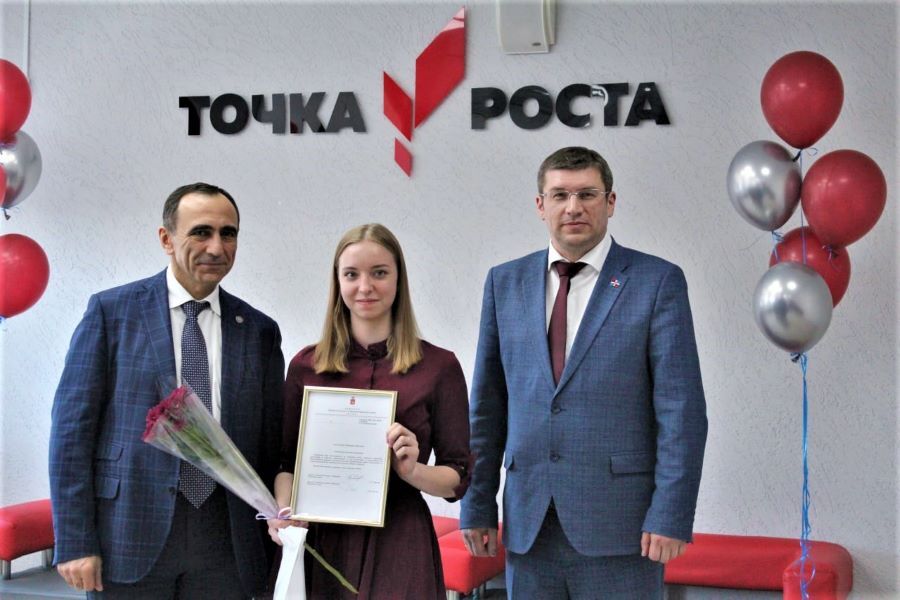 Chairman of the Board of Directors of Metafrax Chemicals PJSC, Mr. Armen Garslyan and deputy of the Legislative Assembly of the Perm Region, Mr. Alexei Mazlov met with schoolchildren of Gubakha schools - winners and prize-winners of the regional and Russian stages of the Olympiad for schoolchildren.
Meeting took place at the New Educational Center of Gubakha. Mr. Armen Garslyan noted in his speech that there are many opportunities now for obtaining knowledge, necessary to build a solid foundation for successful future.
- I wish all schoolchildren of Gubakha - those who are already prize-winners or winners of any competitions, or those who are still on the way to these victories, not to stop, develop, learn. If you have any questions or needs, please contact us, we are always ready to help, provide you with tool boxes. But the main thing is to have personal diligence, perseverance on the way to the goal, - highlighted Mr. Armen Garslyan.
In this academic year Anastasia Kondratieva, Artyom Sharov, Ruslana Zhigalova, Alexei Turov, Danila Sibirtsev and Andrey Bliznin turned in a good performance in the Olympiad and thus proved that even in small Gubakha town schoolchildren can achieve significant heights.
The children who were awarded at the meeting, have already decided on their plans for the near future. Those, who study in the technological classes the New Educational Center of Gubakha, also know in which direction to move along the path of success.
Thanks to the project "School – Ural College of Chemical Technology - Metafrax Chemicals PJSC - University" Gubakha schoolchildren receive in-depth knowledge of major subjects, study on the state of the art equipment, they have access to modern laboratories of the Ural College of Chemical Technology, in which eighth-grader schoolchildren plan to enter. The number of groups in the branch "Chemical technology of organic substances" is growing every year.
The entire fourth floor of the Ural College of Chemical Technology is dedicated to chemists. On the basis of this College a laboratory according to WorldSkills standards was opened, that is equipped with the state of the art technology. The management of the Ural College of Chemical Technology performs the stage of the prestigious competition among young professionals in the direction of "Repair of process equipment of chemical production" on the basis of this institution. Ninth-grader schoolchildren of Gubakha are welcome to study in the specialized "chemical" tenth grades, and then it is possible for them to enter a university on a contractual basis and work at the large and modern chemical enterprise of Metafrax Chemicals.