25.10.2023
​New trends of the mineral fertilizers market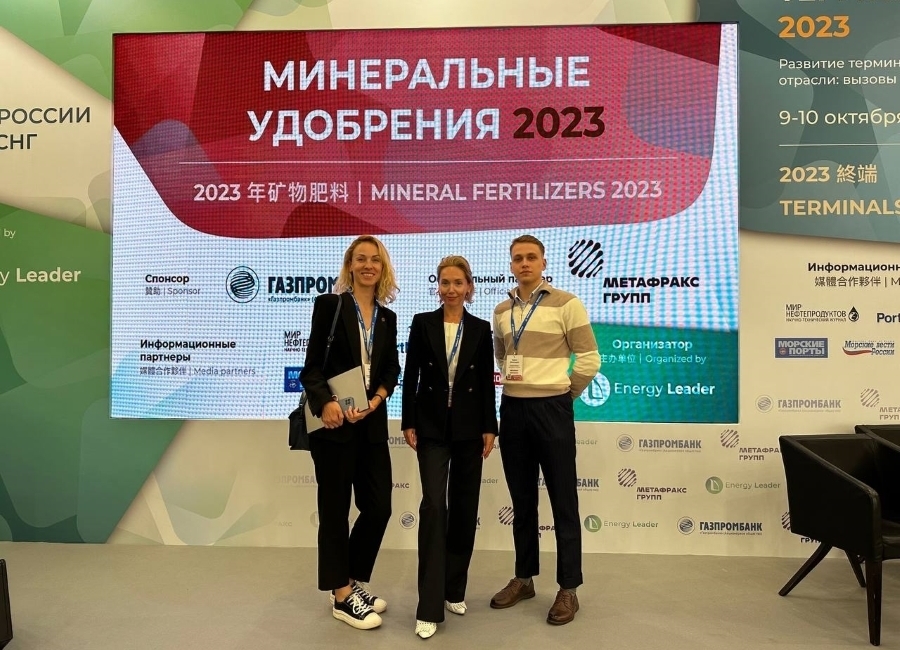 The experts of Metafrax Group have presented to the leading companies of the chemical industry in Russia and CIS states the perspective solutions in production of eco-effective fertilizers.
The conference "Leaders of Russia and CIS states: Mineral fertilizers 2023" was attended by the strategic communications director of Metafrax Group Maria Konovalova, head of the strategy and development department of the holding Lyudmila Zueva and senior analyst of the strategy and development department Kirill Vinogradov.
"Experts raised in issue of advanced eco-effective fertilizers production with prolonged action. The strategic team of Metafrax based on the market analysis believes that demand for such products will increase by 10 % annually," informed Maria Konovalova. "Metafrax Group has a required basis for development in this area. At the production site in Gubakha not so long ago were commissioned the new productions – ammonia, urea and melamine, as well as a new product for the Russian market – paraformaldehyde".
The subject of eco-effective combined fertilizers market development attracted interest of the conference participants. As a result of the poll that was conducted it was revealed that half of the respondents believes that combined fertilizers are the trend for the subsequent 5 years. The major part of the respondents is sure that the trend for prolonged action of the fertilizers is shaped, and they already behave accordingly. In experts opinion, also there is a need to increase level of awareness of the market participants regarding benefits of these products.
During the conference the experts of Metafrax Group have separately discussed with the colleagues from JSC OKHK Uralkhim and JSC MKHK Eurokhim the production of analogue for urea-formaldehyde fertilizers (UFF). Lyudmila Zueva also noted that taking into consideration the available design capacities in Gubakha, the company is not going to compete for all market of UFF.
"Metafrax, as an example, could act like a partner for high capacity manufacturers as a paraform supplier or cooperate in development and promotion of this modern product in agro-industry", told Lyudmila Zueva.
---
Metafrax Group and Gazprombank acted as partners of the Russian and CIS Leaders: Mineral Fertilizers 2023 conference in Sochi, and Energy Leader was the organizer. The main topics of the roundtables were the specifics of industry development, technologies, engineering and design in the production of mineral fertilizers and chemical products, modernization of production facilities and equipment, as well as catalysts and their service. The conference presented new developments to expand the product line of mineral fertilizers.