31.10.2023
​We are looking for great specialists!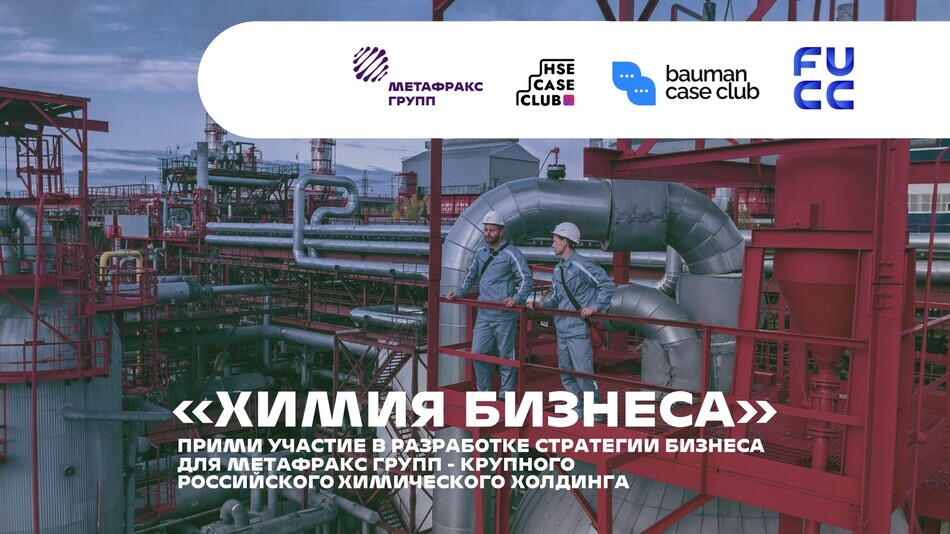 Metafrax Group announces the holding of the second team case championship "Chemistry of Business". The winners will receive the status of High Priority Candidates for employment in the holding.

The case championship will be held in two stages, and the final will be held on December 8. Registration will be available until November 17 https://anketa.b1.ru/b1_metafrax
In 2023, the competition will be held for the first time with the support of three case clubs of leading Moscow universities at once:
National Research Institute "Higher School of Economics";
Bauman State TechnicalUniversity;
Financial University under the Government of the Russian Federation.
The Chemistry of Business case championship will also have a partner from the field of audit and consulting services, we will inform you about him very soon.
Who is participating?
3-4 year undergraduate and graduate students of Russian universities with specialization in economics, finance, management and mathematics are invited to participate in the case championship.
What will the winner get?
The winning team will receive the status of High Priority Candidates when selecting for open vacancies in Metafrax Group and valuable prizes from the organizers.
By holding this championship, we hope to give the last year students an opportunity to prove themselves and successfully start their careers, improve their structural thinking and creativity by offering the best initiatives to solve a business problems.
The top manager of Metafrax Group and a partner company from the consulting sphere will also hold a series of master classes for the participants during the case championship.
---
The first case championship organized jointly by Metafrax Group and the audit andE&Yconsulting company took place in 2022. Eight student teams presented analytical projects related to promising areas of activity of the Metafrax Group of companies. 26 students from 14 higher educational institutions of Russia and Kazakhstan took part in the active stage of the competition.